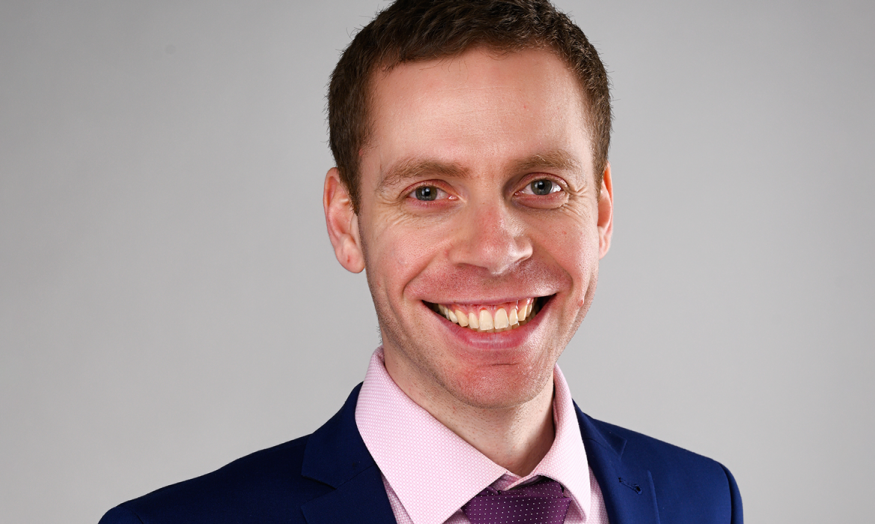 The Randle team have been delivering engineering solutions to clients around the world for over 25 years. In the Staff Spotlight series, we're speaking to some of the team to learn more about what it's like to work at Randle and how they started their engineering careers.
A more recent addition to our team, Guy joined the business in December 2021 as a Senior Consultant Engineer. He's been passionate about the engineering industry from a young age, completing a Year in Industry at 18 before obtaining his degree and going on to work at Jaguar Land Rover. Now, he's enjoying growing his skillset and learning more about vehicle dynamics with the team at Randle.
Tell us about yourself
For me, the joy in engineering has always been about solving interesting challenges and making the world a better place – outside work my main outlet for this has been in 3D printing, having designed and built several 3D printers. In my spare time I also greatly enjoy snowboarding, rock climbing and anything else that gets me into the great outdoors.
I live in Leamington Spa with my wife and our Ukrainian guest, who we've recently sponsored under the Homes for Ukraine scheme. We married in 2020 after meeting through our local church where we're both active members and still lead a weekly children's club.
What's your background and experience?
My first experience of engineering was working at a rapid prototyping bureau, 3T RPD Ltd, on the Engineering Development Trust's Year in Industry scheme, after completing my A Levels. 
Following that, I studied Mechanical Engineering at Imperial College London, where I focused on solid mechanics and specialised in polymer processing technologies, designing and building a novel concept 3D printer for my final year project.
In 2014, I joined Jaguar Land Rover's graduate scheme, working in the Exhaust Systems department while also doing placements across a variety of engineering departments. This gave me a broad understanding of how JLR works and the process required to design and manufacture vehicles.
In 2017, I moved to the CAE (Computer Aided Engineering) team in the Powertrain Research department at JLR. I managed a small team of engineers, and specialised in modelling the impact of fuel efficiency in a wide variety of new powertrain technologies, spanning internal combustion engines, hybrid and fully electric powertrains. 
During the pandemic, I was moved to the Powertrain Thermal Function Group, where I worked on developing cooling system models for the next generation of Land Rovers. 
"I was drawn to the variety of projects and different technologies at Randle"
How did you come to start working at Randle?
There were several push and pull factors at play. 
On the push side of things, in my final role at JLR I was working remotely, and I discovered I'm substantially more motivated and energised in my work when physically present with my team. I hear that even now many teams in JLR have not fully returned to office working.
I discovered Randle Engineering while looking for new opportunities. I was drawn to the variety of projects and different technologies that the company had worked on, and particularly to the emphasis on first principles engineering. 
This gave me the confidence to side step from powertrain simulation into the world of vehicle dynamics and chassis engineering.
Guy's current role at Randle
What are your key responsibilities?
Essentially, my role is to develop concepts in order to solve customer problems. That involves a lot of analysis using CAD/FEA software, and using ADAMs, Excel and Matlab models to analyse and optimise the performance of part and systems designs. I'll then write up reports and give presentations of the analysis conducted. I also get to liaise directly with the clients and suppliers, and lead project teams.
What skills does someone need to be great in this job?
The ability to apply fundamental engineering concepts to any given problem is paramount at Randle Engineering, and it's important to have strong maths skills and an analytical mindset. But, you also need to be able to explain complex concepts in a clear and concise way, and have good presentation skills too.
What does a typical day in your role look like?
Each piece of work tends to start with a kick-off meeting with the customer to understand what it is that they need from us, whether that be a new mechanical system designing, a piece of analysis on a new product or fixing issues with a system or part they already have in production.
My role in the company so far has focused on mathematical modelling. So, I spend most of my time analysing our customer's project requirements, coming up with potential solutions and then building mathematical models in Excel, Matlab or ADAMs to test out and optimise those solutions.
I'll then put together a presentation outlining the analysis and the results and talk this through with our customer.
What's the culture like at Randle?
Randle Engineering has a relaxed and friendly culture, where learning and developing – particularly technical skills – is greatly encouraged.
What three words would you use to describe Randle and your experience working here?
Technical, challenging, engaging.
What's your favourite project you've worked on or your favourite part of the job?
Since joining I've greatly enjoyed learning the fundamentals of vehicle dynamics and taking the opportunity to apply this across a wide variety of different technologies.
Guy's tips for budding engineers
"The world is full of opportunities for engineers."
How do you become an engineer?
The first step to becoming an engineer is to take an interest in how physics and maths can be applied for the benefit of mankind and our world. That might be in the products we use every day, the buildings and environment we live and work in, the technology in our hands, how we transport things all over the world or generate the energy to power it all.
If you find this inspiring then you'll be motivated to develop that knowledge to the next level so that you can apply this yourself in your chosen area for the betterment of our society.
The standard route for this would be to take maths and physics to A level and then take up a degree or apprenticeship in one of the many areas of engineering. The world is full of opportunities for engineers.
What's one thing you wish you'd known when you started out in your career?
The soft skills are as important as the technical skills when it comes to working in engineering. It's not enough to come up with the best ideas and solutions, you must also be able to convey these ideas and convince people of their value if you want to make a difference.
What's next for you? What are your career goals?
I'm always looking to learn more and grow my skillset, but it's enough for me to enjoy my role and be able to make a positive impact through the projects I carry out and in the team I work with. I don't have a particular career trajectory I'm aiming for.
Feeling inspired? We're always looking for fresh talent for our team. Submit your CV to start your engineering journey with Randle.