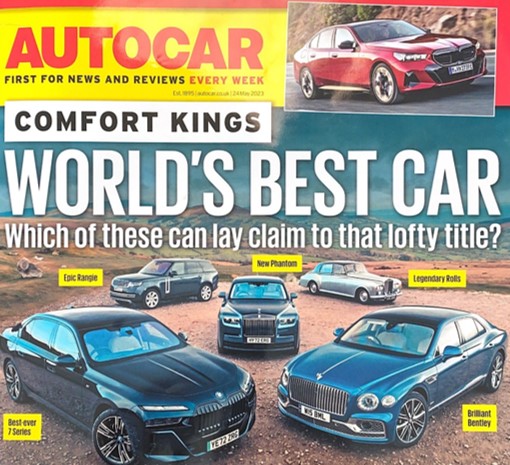 Steve Randle of Randle Engineering was featured in Autocar this week (24th May), one of the world's most reputable and oldest car magazines.
The Kings of Ride and Comfort group test, 'Ride and Joy', conducted in the stunning Bannau Bycheiniog, also known as the Brecon Beacons, saw Matt Saunders of Autocar, test five vehicles past and present. Matt invited Steve and Jonathan Palmer, of Palmer Sport, ex Formula 1 driver for their expert opinions.
The team at Autocar assembled the following vehicles to take a considered view on ride and comfort. Rolls-Royce Phantom VIII, Bentley Flying Spur V8 Azure, Range Rover P440e Autobiography, Rolls-Royce Silver Cloud and BMW i7 xDrive60 M Sport, a pretty impressive stack of metal!
After devoting himself to a career of engineering consultancy, Steve has the extensive experience and freedom of thought be the perfect person for this brief. Steve retains a hands-on role at Randle Engineering, his passion sits with the ongoing involvement in mechanical engineering and the area of vehicle dynamics. His expertise is sought industry far and wide as mirrored by Matt Saunders below.
"ride and comfort being not only a complicated but also subjective question, we decided not to tackle it on our own. Providing an alternative and especially expert take was Steve Randle of Randle Engineering, a man with an impeccable CV in vehicle dynamics engineering on which the McLaren F1 can be found".

Matt Saunders, Autocar feature 24th May 2023. Page 32

Picture: Steve Randle

Sarah Hookey, Operations Manager at Randle Engineering liaised with Autocar to secure Steve for the piece. Sarah said 'Steve Randle and the engineers at Randle Engineering work from a place of honesty, integrity and credibility. Collectively there is 20 decades of engineering consultancy expertise with foundations from JLR, McLaren, Altair and Ricardo as well as home grown talent. Steve was the perfect guest for the piece and we were delighted to accept and be a part of the feature'.
Randle Engineering, established in 1994, is a design & development consultancy specialising in the application of core engineering principles to solve complex problems. Steve Randle and the team of engineers at Randle HQ deeply understand the business they are in, the needs of the customers and the broader marketplace.
To find out more about Randle Engineering services or seek a consultation contact the team at the Warwick HQ on 01926 623 200 / enquire@randle.co.uk / About Randle Engineering
Media enquires please send to resmarketing@randle.co.uk
To read the feature, please visit Magazine Subscriptions | Autocar or purchase edition 24 May 2023
Thank you to Matt Saunders, Road Test Editor at Haymarket Media Group and Steve Cropley, Editor in Chief, Autocar at Haymarket Media Group.